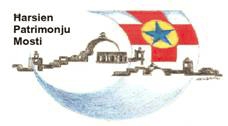 HPM OBJECTS TO COMMERCIAL DEVELOPMENT APPLICATION IN GHARGHUR VALLEY
The following objection was lodged with MEPA in view of the planning authority's decision to grant an outline development permit for the construction of a block of maisonettes on the periphery of Għargħur's urban conservation area at Triq Krom il-Bahar/Sqaq Charlotte facing the Gharghur Valley and Victoria Lines.
OUR OBJECTION:

The application does not conform to the Planning Authorities Plans and Policies. According to the Central Malta Local Plan, this unique characteristic is due to the limited development in this rural area. Wied ta' Santa Marija taz-Zellieqa, is of ecological value and should therefore be protected from all types of development. In fact, the Local Plan rigidly controls development in these areas that are of high conservation value and high landscape sensitivity. Although the Local Plan allows a wide range of non-residential uses within these zones, bars and restaurants as well as small hotels are generally not permitted (see MEPA Topic Paper on Urban Conservation and Built Environment, 2003).

- The rural areas of agricultural land surrounding Gharghur provide it with a quiet and serene atmosphere. This type of commercial development would certainly deprive the area and its residents of this enjoyment.The proposed development is also out of keeping with the visual appearance of the area which is an established residential village containing an outstanding landscape, and would be highly visible when viewed from the surrounding areas.

The proposed development is uncharacteristic of the area and would harm the local character in regards to its size, location and use. Allowing such a development would not only contravene local plans and policies but also have a significant impact on the environment and be of nuisance to the residents. Therefore, the application should be rejected.

It is hoped that in processing this application, the following policies are considered and applied:


Development will not normally be permitted if the proposal is likely to have a deleterious impact on existing or planned adjacent uses because of visual intrusion, noise, vibration, atmospheric pollution, unusually high traffic generation, unusual operating times, or any other characteristic which in the opinion of the Planning Authority would constitute bad neighbourliness.

Development will not normally be permitted if, in the opinion of the Planning Authority, it is incompatible with the good urban design, natural heritage, and environmental characteristics of existing or planned adjacent uses, and is unlikely to maintain the good visual integrity of the area in which it is located. There will be a presumption against development which does not generally observe the design guidelines issued by the Planning Authority for built-up areas.
POLICY UCO 6

Within Urban Conservation Areas, the basic objective will be to preserve and enhance all buildings, spaces, townscape, and landscape which are of Architectural or Historical Interest, and generally to safeguard areas of high environmental quality and improve areas of low quality.


POLICY UCO 13
Wherever possible, by control or positive intervention, buildings of architectural, historical, and townscape importance, gardens, and other


POLICY UCO 16

Public awareness of and interest in conservation will be promoted, as a means of assisting the realisation of conservation objectives.

PART 2:
POLICIES
15. CONSERVATION
Natural Resources in Rural Areas
15.21
The countryside and the coast are recognised as being two of the nation's most valuable natural resources. Together, countryside and coast provide the backdrop and raw material for much of the country's industrial, commercial, agricultural, and recreational activities. The intensity of use of these resources, and the delicate equilibria operating within and maintaining them, necessitate very careful management in order to harmonise the various uses of the countryside and coast and derive maximum benefit from them without their deterioration.

Recognising this, the Planning Authority will rigidly control development of the countryside and coast in general, and particularly of aquifer recharge areas and other important water catchment areas, afforestated areas,

sites of ecological and scientific importance, sites of scenic value,

coastal cliffs and sandy beaches, established and proposed bird sanctuaries, nature reserves, national parks, other types of protected areas, and of areas prone to erosion.


15.25

The limited land area and high population density result in strong pressure being exerted on the natural environment, particularly in areas which are relatively undeveloped. Many species, endemic and other valuable ones included, are threatened with extinction, while habitats are fast degrading. Some geological sites are in danger of complete obliteration, while many intrusive elements are spoiling the scenic value of the landscape.
15.26
The natural landscapes of the Islands are intimately related to agricultural activity. Both have to be protected from urbanisation, and conflicts between them have to be resolved.

Reference is also made to RCO 29 that does not allow any new development on valley ridges other than for the preservation of soil & water.

"No new physical development will normally be allowed on the sides of valleys and especially on valley watercourses except for constructions aimed at preventing soil erosion and the conservation and management of water resources"
Chev. J.P. Cuschieri
Secretary - H.P.M.
-------------------------------------------------------------

HPM is also opposing this project:
http://www.timesofmalta.com/articles/view/20120205/local/G-arg-ur-threatened-by-development-residents-claim.405294
-------------------------------------------------------------
WHAT WE ARE TRYING TO SAVE & WHY