MASSIVE 24,000+
SIGNATURE PETITION SUBMITTED TO PRESIDENT OF MALTA
6th June 2012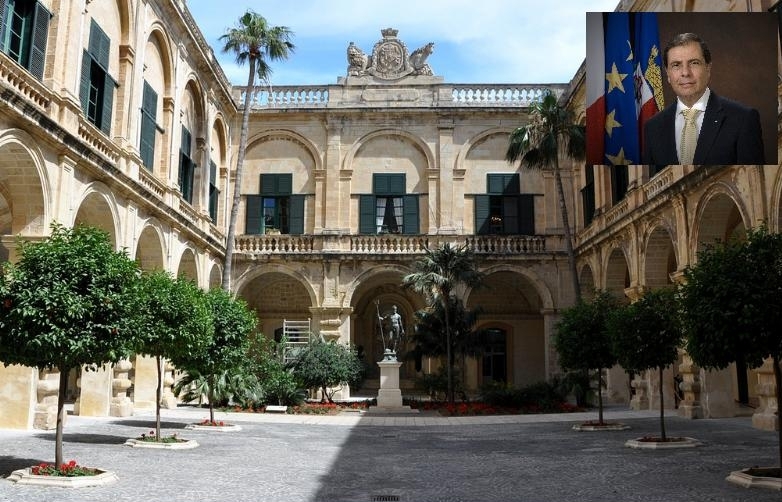 With 2 weeks remaining for the final decision by the Planning Appeals Board, our petition to save the iconic green heart of Wied Il-Ghasel is being submitted to the Office of the President of Malta today. Further details and updates shall be announced at a later stage.

21st June 2012

A DAY OF SHAME FOR MALTA AS

NATURE TRUST LOSES APPEAL TO SAVE WIED IL-GHASEL'S GREEN CORE!
Despite the change of season, this matter is just another chapter of the same old story. Nature Trust and official objector HPM have lost the case after a 3 year struggle to save a unique site in Wied il-Ghasel's core.
HPM is currently studying the Tribunal report, and is in discussion with Flimkien Ghall-Ambjent Ahjar (FAA) and The Ramblers Association, who promptly and actively offered priceless support and assistance ever since this permit was issued in 2009. HPM is also liaising with Nature Trust, and other allied NGOs about the matter. Our technical experts and legal advisors, as well as our foreign observers, are reviewing the document as to rectify this ulterior abuse in the best way possible.
Court proceedings are being contemplated, and so is a case of state mal-adminstration. We have evidence of abuses and are determined to do whatever it takes to find justice.
Although it is shocking that the tribunal chose to favour a huge commercial development on a world protected valley ridge, this is not surprising, and was actually predicted within this website.
A full press release about the infamous decision report is being drawn up, after the related documentation has been fully examined and evaluated.

We are hereby attaching a link to the report which may be viewed and downloaded from MEPA's website. Compare the Tribunal's decisions and conclusions with the ample evidence presented on our website, and draw your own.

TRIBUNAL BOARD REPORT - CASE 05560/05

We shall be illustrating how this version of reality is far from being correct, despite the evident self-righteous attitude it radiates.

In the meantime, HPM is still awaiting for a decision to be taken in parliament, following a substantial request by over 24,000 people, for this permit and any others concerning the site to be quashed. The evidence submitted along with the petition is not open to interpretation and based exclusively on proven and verifiable facts.
The importance of this site has also led HPM to lodge the petition with the President of Malta, and hopes that a full and proper investigation is objectively carried out in order to determine the abusive way this permit has been issued, as well as evident prejudice by the appeals board.

Suffice to say that the said Tribunal gives full recognition to a farcical report drawn up by experts commissioned by the developers, whereby it is concluded that the Girna is a post 1968 structure of no value whatsoever. This despite photographic and other evidence proving the very opposite, and in sharp contrast with MEPA's own decision to impose hefty bank and other guarantees that this structure is not only kept but fully restored!
Professor Refalo, representing the developers in the appeal, has recently written to the papers questioning the validity of our petition. He also inquired whether the people knew what they were signing for and whether they were correctly informed about the project / issue/s.
The original copy has been deposited in a safe, and is available for consultation by both government officials and members of the general public. Appointments can be arranged by sending an email to secretary.hpm@gmail.com
As for the case being defined to signatories, these were shown plans of the approved building line, as well as number of images of the site. They were also advised to log into our website for further details. Many where those who did so, as our site statistics and hit-counter (17,000 views) show. The petition wording document with the precise request and details was also available for consultation at all times, and is still visible right below.
Essentially, it is a summary of the main points contained within this website, with all the black and white facts for all to see, verify, and in this case, condemn.
7th July 2012
URGENT CALL FOR SPONSORS & DONATIONS
IN VIEW OF COURT PROCEEDINGS
With reference to our efforts and those of Nature Trust (Malta), aimed at reverting a massive development permit at Wied il-Ghasel's world protected green core, we would like to re-announce that the appeal has been won by the developers.

Following considerable deliberation, as required by an in depth evaluation of the appeal report, we have resolved to go on with the last step, this being the law courts.

We shall be submitting our second appeal this coming Monday, 9th July, 2012.

However, the past 3 years of constant campaigning, and all the relative legal fees, have cost us thousands of euros, and it is only through the extreme sacrifice of our members, and our own voluntary work, that we have come this far.

We have had to throw everything in to keep afloat, and all our educational and cultural projects have had to be shelved, since the budget afforded to them had to be committed to this crucial struggle.

The problem is that HPM has bled dry, and there is no way we can submit the appeal unless we manage to put together 900 euros, and an additional 300 to cover legal costs and related expenses. (Since both Nature Trust and Harsien Patrimonju Mosti are recognised objectors, it was agreed that the former would be the official appellant while the latter was to provide the extra funds and logistics required to tackle this particular case.

If you would like to contribute to this cause, kindly mail any cheque donations to

The Secretary,

Harsien Patrimonju Mosti
16, Aquarius Bldg, Floor 2
Triq il-Wied

Mosta
All donations shall be recorded and acknowledged (by email where possible to cut down on postage). Kindly forward this to anyone you know might be in a position to help. Having done all in our power, and even well beyond, our success now lies within the power of the people, entirely!
Jonathan Paul Cuschieri KLJ

Secretary, HPM
We shall soon have a bank account number for direct debit, but right now there is no time or energy to address that issue.

-----------------------------------------------------------

25th July 2012

LATEST APPLICATION FOR DEVELOPMENT OF THE WIED IL-GHASEL SITE RECOMMENDED FOR APPROVAL BY MEPA
THE IMPLICATIONS:
We make reference to yet a 3rd new application for the development of the Wied il-Ghasel ridge site, lodged by the developers in Spring 2012.
This proposal, a new application entirely, is heavily based on a formerly granted permit, and retains the same plans and conditions, minus 2 underground levels and with one of the edges closest to the valley bed trimmed down.
Numerous objections were submitted by several NGOs and other third parties, but the application was recommended for approval in the last few weeks, with a decisive sitting to be held on the 8th August, 2012.
HPM, in agreement with other recognised objectors, is in the process of lodging submissions based on the approval recommendation report. This is an extract of our submissions:

Nothing in this recommendation for approval has been said about the devastating impact this project is going to have in terms of over-development.

This has partially been recognized by the authority as follows:

"The removal of on-site car parking facilities is a planning concern"

It is an even greater concern to existing uses including the residents and commercial entities in the area, since even without this development and proposed influx of nearly 40 cars, parking and traffic issues are already intense!

The addition of this large number of vehicles cannot but have a huge detrimental effect and long term problems as a direct result of over-development, with a huge imposed inconvenience to both the people who live and work in this area.

The situation today already is difficult, as shop owners require parking spaces for their patrons as well as their staff and have to compete with the residents for an already limited and inadequate parking.

The conclusion of the authority's report states that "The proposed modifications are within the parameters as established in PA 5560/05", and that "Despite that the proposed complete elimination of car parking from the site, limiting the amount of excavations would have less negative impacts on Wied il-Ghasel and the existing Girna", hence "An approval is therefore being recommended."

(It was also proposed that the sum of EUR 70,813 shall be paid to the council in terms of the Commuted Parking Payments Scheme of Mosta, "to compensate for the shortfall of 38 parking spaces").
We find this conclusion to be seriously against the principles of sustainable development, and wholly insensitive to proper development guidelines. We also find no justification in such an approval, and the conclusion does not properly address some very serious issues.
The proposal of the mentioned compensatory sum to the council in no way addresses the above concerns either.
Furthermore, this grant permit recommendation bases its consent gauged on the fact that there shall be less damages and negative impacts than as per permit 05560/05, when the law clearly states that no negative impact(s) should be allowed, especially in such sensitive areas.
One must also consider the ethical and moral responsibilities of this authority in terms of its own mission statement which clearly states that sites of certain value, including open spaces is heavily dense town cores should be protected, and not tarnished, or even destroyed.
The fact that the former permit was to have a greater negative impact only shows that our claims in that regard have been correct, and both for this, and other reasons, PA 05560/05 should never have been granted.
We also refer to issues raised in former site evaluations by MEPA's own case officers, and remind the authority that over-development and the detrimental effect on the area with all its assets and existing uses, was one of the main causes for refusal.

Despite several aesthetic modifications from the original submissions, the issue of over-development has never been properly addressed. Along with the latest consideration pertaining to parking issues, these factors by themselves should have been and remain enough to prompt the authority to turn this application down.
As for the former application, an appeal in court is now ongoing, and we strongly believe that in view of fairness, reference to it should only be made once proceedings have expired and the final decision has been taken.
------------------------------
9th August 2012
LATEST APPLICATION FOR DEVELOPMENT OF THE WIED IL-GHASEL TURNED DOWN BY MEPA BOARD


In Spring 2012, the developers suddenly halt all works, and eventually remove the heavy machinery from the site. There are a number of reasons why this could have happened, but it is known that the authority was concerned about the rock cutting and digging, and HPM's site-watch and daily reports to MEPA showing large quantities of dust blowing directly into the centre of the valley with its legally protected trees. We would like to highlight the fact that the valley and its ridge are the heart of a world protected site!
At this stage, the developers submitted a third application for the same site, which would omit further digging due to the exclusion of the garage levels, and with the reduction of the building line in the development area closest to the valley bed itself.
Although HPM and other NGOs, including Flimkien Ghall-Ambjent Ahjar (FAA) and the Rambler's Association of Malta (RAM), Nature Trust (Malta), and others, agree in principle that this application would constitute far less damage, the site would be ruined all the same, and the impact on the valley, its ecosystems and other attributes would still be unacceptable.
Furthermore, the lack of garages would also have resulted in at least 38 cars having nowhere to park, in an already intense commercial and residential zone, where parking is already an issue. Accidents have also become and all too regular occurrence here due to the intense overload of the designated city centre, of which the respective road forms an integral part.
This was one of the main points raised during the board sitting held yesterday, whereby Chev. Jonathan Paul Cuschieri, in a joint representation for HPM, NT, the Residential Assn, and a number of private individuals and residents, made reference to the fact that over-development had already featured as an issue when the former permit had been initially turned down by MEPA's case officers, and approval of this new application would lead to an unacceptable state of chaos in the area, to the detrimental consequence of all the residents and many commercial or work related entities.
The board was hence faced with a dilemma leading to a lengthy evaluation and much consideration. The only choice the board had, in essence, was whether to approve the newer permit in order to lessen the negative impact on the valley, but have around 40 vehicles added to an area that already has known parking problems, or to refuse it and avoid this situation, potentially allowing the older permit for further digging of the garage levels to be revived.
The developers made it clear that if their new bid was turned down, they could resort to said former permit and carry on with the digging. At this point an allegation was also made by the developers' architect that it was MEPA who had asked them to come up with a solution that would avoid further digging of live rock, hence this new application. This statement was deemed unacceptable to the board however, and this in no uncertain terms.
HPM pointed out that in reality, this was a lose-lose situation, and made it clear that this was the result of (formerly) granting an unsustainable permit which would either destroy the valley, or alternatively, if this amended application is approved, still ruin the valley and constitute an extreme case of over-development, along with other concerns.
HPM also added that despite the appeal over the original permit was confirmed in favour of the developers, since this was still being contested in court, its revocation was still possible. Hence it is unfair to relate to a permit that is still being legally disputed.The Board made it clear however, that its decision had to be based in the light of the developer having a valid permit.
After a lengthy deliberation between all parties involved, the board eventually ruled that the new application would indeed cause over-development, and that the influx of such a large number of vehicles would be too much of a strain on an already heavily burdened system and area.
The developers were asked whether they would consider reducing the number of apartments as to provide for adequate garaging space, and whether they wanted the decision to be postponed as to allow for fresh plans to be submitted, but this was declined on the basis that the project would no longer be economically viable and profitable.
The Board members, still divided, then took a vote, with the result that this new application was refused.
In the meantime, HPM & NT shall carry on with their representations in court. HPM shall also be following up its petition, as to ensure that this important and unique site is saved and preserved.

A copy of the joint submission made to the board may be seen here:
26th SEPTEMBER 2012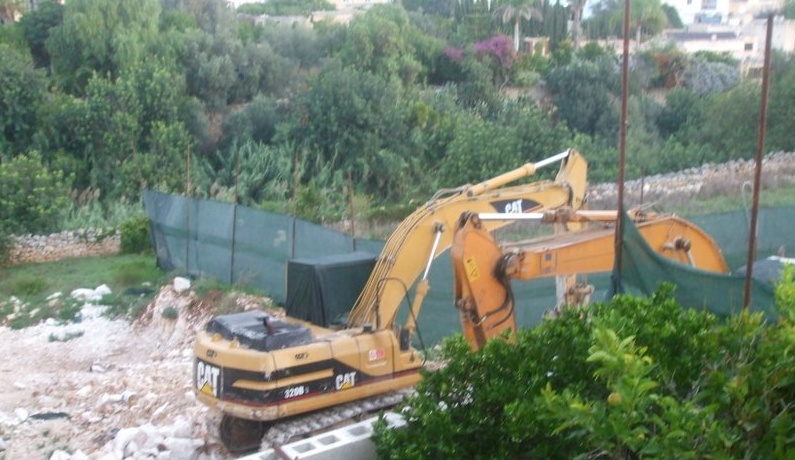 After around 6 months of peace, works have resumed at Wied il-Ghasel. The developers intend going on with their plans to build a massive block of flats and garages despite the environmental, social and other detrimental impact on the valley and citizens of Mosta.

Rock cutting and digging commenced last week and is now going on at full speed, to make good for three and a half years of disruption. Despite everything, works have already been stopped this week since these had proceeded without the proper screening required by law. This however was soon rectified, and works were again allowed to continue. Again since the developers have repetitively infringed several of the conditions subject to which the permit was bound.
In any serious country, where the law is applied firmly and consistently, these numerable and serious relapses, would have long seen the permit withdrawn. But despite what is said on paper, reality is often very much in contrast with established principles and declared values.
Compare MEPA's mission statements and its many press releases and declarations about its determination in saving what should be saved and protected to the reality you see on these pages.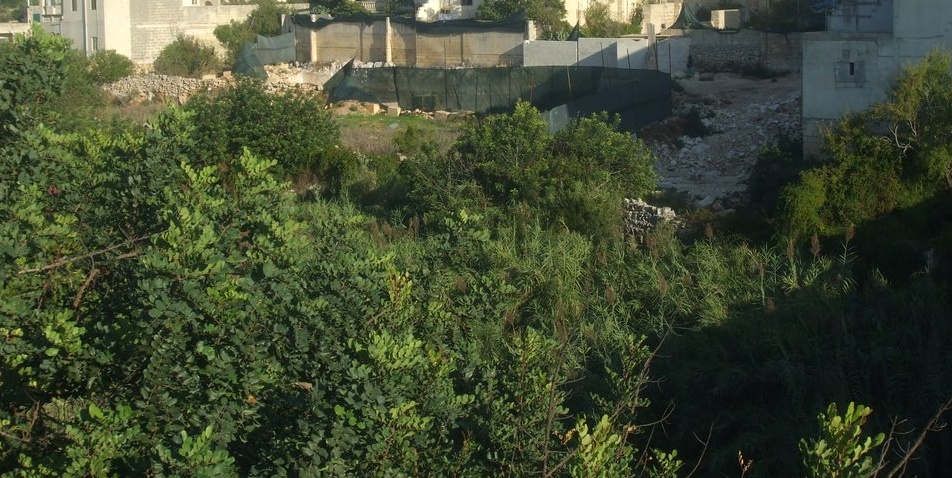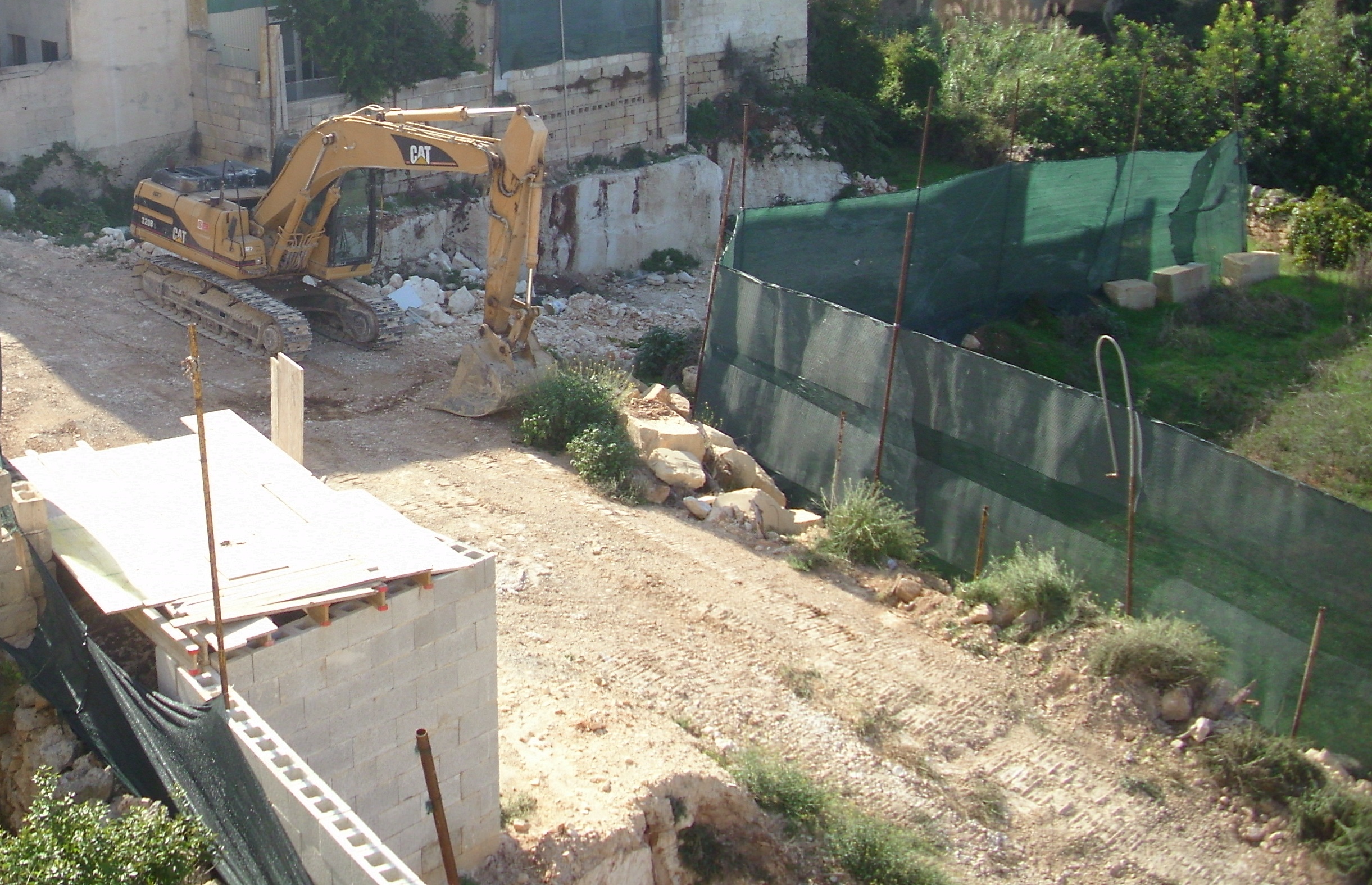 Our last hope remains in the value of democracy, which is why a petition with over 24,000 signatures was lodged in parliament and also with the President of Malta.

Any serious and thorough investigation of our claims will immediately show that this is a clear cut case of environmental abuse, and the fact that court proceedings are currently underway while every passing day sees more damage to what we are trying to save and protect is unacceptable.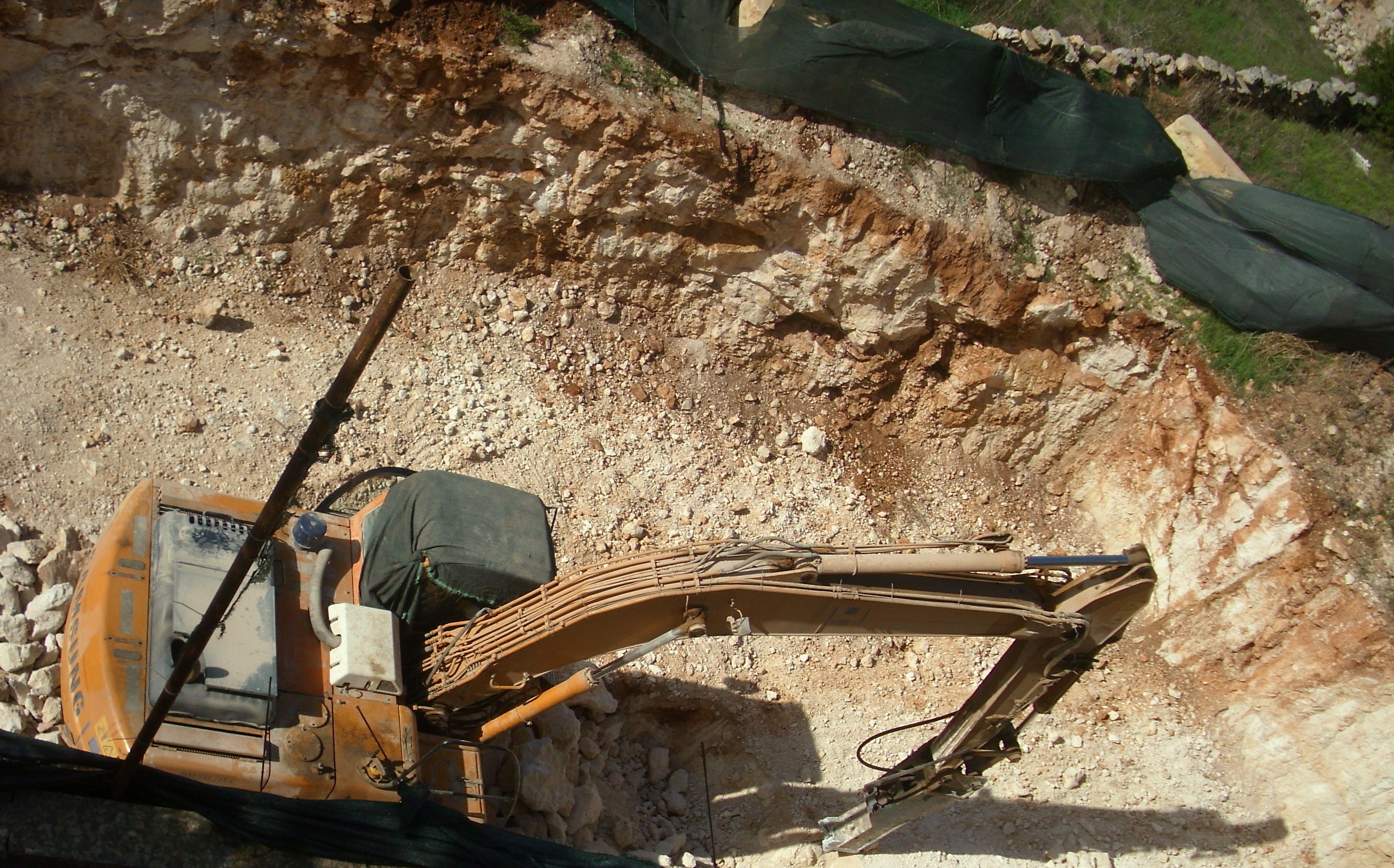 What use is it suffering the trouble and expenses of court to potentially win a case that concerns saving a site which has been destroyed in the meantime, and irreversibly so?! I am not sure what you make of it, but to us it sounds like anything but democracy!


This is why we, and so many others, including the vast majority of similar NGOS have requested Malta's electoral representatives, or members of parliament, and their respective heads, including the President, to intervene and restore order, democracy, transparency, and all that one expects in a serious society and country. This includes the immediate revocation of this flawed permit as well as permanent protection of a unique and cherished site!


29th SEPTEMBER 2012
To add insult to injury, the works are being carried out with total disregard to permit conditions, along with relative additional instructions by MEPA itself.
The clips show above, taken over the past days, show inadequate hoarding, and trucks leaving the site without having their wheels and undercarriages washed or cleaned. This was a specific condition made by Mr. Alex Borg, in his capacity of Enforcement Director, within the said authority, after the site had been sealed due to several breaches, which already included this shortcoming.
The screening is clearly not able to withstand force 8 winds, despite this being another specific instruction and point of law, is completely destroyed / missing on one side, adjoining gardens full of trees and 3rd party property in which people, not rats, live.
More soil was also being removed by the truckload, despite the fact that all soil was to be preserved. We can understand that a minor loss would be sustained, but our photos and evidence show several trucks being filled with large quantities of soil. The same goes for rubble wall stones, which should have been removed by hand, and kept on site. The facts speak by themselves: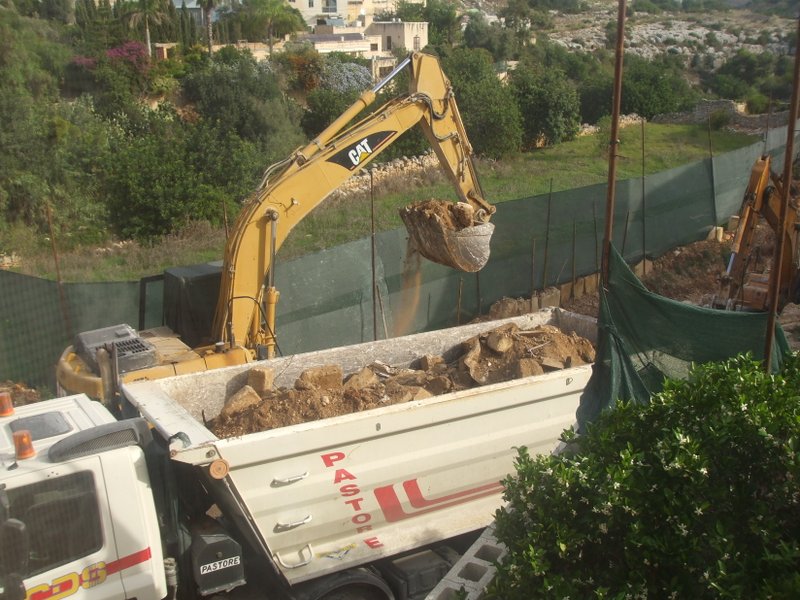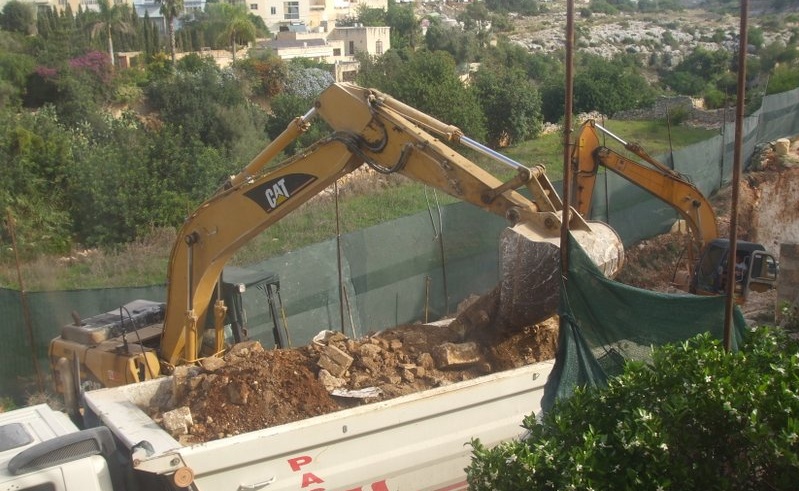 Above: soil and rubble stone wall pieces and foundations being carted off despite instructions to the contrary.

Several reports have been made to both MEPA and MRRA, the 2 local authorities concerned with the monitoring and enforcement of relative legislation. No steps have been taken so far, since up till today at 1.30pm, works were proceeding at full speed.
This brings to light the absolute futility of MEPA setting conditions which may then be infringed at will, and on several occasions. It is another great shame and abuse, that the relapsing nature of the developers in question remains oblivious to the authorities, and that such acts of direct defiance are allowed to carry on!
--------------------------------------------------------