1st April 2009

Another Press Conference was held today, this time by one of Malta's leading Green Whistle-blowers & EU MEP Candidate (PN) Dr. Alan Deidun.
Media coverage may be found here:
DI-VE.com
7th April 2009
The Wied Il-Ghasel issue was one of the main themes of yesterday's edition of 'Issues', hosted by Jonathan Attard on One TV. EU MEP Candidate (MLP) Steve Borg explained why the development permit should never have been granted and asked the Prime Minister, now at the helm of MEPA, to investigate why the permit was issued despite it being in conflict with so many policies and regulations. This includes the Mosta Environment Constraints Map MOM7 which clearly demonstrates that the majority of the land concerned is listed as an area of ecological importance and falls outside the permitted development boundary.

Four online articles have been featured on the European Commission's website: Europe Media Monitor (EMM) NewsBrief. This site is a joint project of DG-JRC & Directorate General Communication of the European Commission.
9th April 2009

Dr. Alan Deidun held a follow-up press conference yesterday morning, while the issue is also being featured by (Super) One Radio news bulletins.
Yet another two well recognised and established entities, the Ramblers' Association of Malta (RAM) and the Federation for Hunting & Conservation (FKNK) have condemned the shameful permit by means of the following press releases dated 08-04-2009

RAMBLERS CENSURE MEPA

ON WIED IL-GHASEL

The Ramblers' Association of Malta (RAM) feels disillusioned that in spite of promises of reform MEPA continues to issue permits for major developments in areas like Wied il-Ghasel, a Natural Monument by International Standards.
MEPA seems insensitive by design. Some years back it undertook to protect the valley. Like NGOs it valued the special place that Wied il-Ghasel occupies in the Nation's collective memory with its legendary and historical connotations. Not feeling accountable to anyone, the Authority now reverses its former decision. It goes against the legitimate objections and protests of civil society.
What is particularly disheartening is Government's inaction in the face of civil society's discontent and loss of faith in MEPA. Moreover the Government is responsible for the re-appointment of people who continue dishing out permits like these. RAM observes that MEPA is paid out of public funds for the specific purpose of protecting natural reserves like living valleys and conserving special features like corbelled huts. Yet MEPA feels no obligation to justify its stand for deciding to allow their very destruction. The Authority feels it possesses the supreme power to reverse with impunity its own declared policies, and to ride roughshod over the consequent widespread protests of civil society. The defender has become offender, against whom the same civil society has to guard, at its considerable cost in time, effort and expense.
RAM is four square behind the struggle of Harsien Patrimonju Mosti to protect Wied il-Ghasel, associates itself with Nature Trust in its relative court case against the Authority, and joins forces with other associations in their objections to this rude development.
Alex Vella
Hon Secretary
Ramblers Association of Malta
http://ramblersassociation.blogspot.com/
http://www.ramblersmalta.jointcomms.com/
FKNK OPPOSES

WIED IL-GHASEL DEVELOPMENT

Wied Il-Ghasel…
The Federation for Hunting & Conservation – Malta (FKNK) wishes to express solidarity with the 'Harsien Patrimonju Mosti' Committee and all Mosta residents regarding the destruction of Wied il-Ghasel that is ongoing at present.
Unfortunately and yet again, it seems that one of the few remaining valley ridges on the Maltese islands will be lost forever. The area's rich ecological, cultural, rural and aesthetic features, including traditional age old rubble walls and a 'Girna' will no longer stand. The area is also an integral part of a tree reserve, however all is in danger of destruction in the name of progress.
Lino Farrugia
Secretary - FKNK
Ramblers Association of Malta
http://ramblersassociation.blogspot.com/
15th April 2009
Considering the size and scale of this shameful development, and its detrimental impact to both the environment and valley system, as well as the residents, people of Mosta and general public, a request was made for the local council to take a stand over the issue. Following a meeting held at Mosta Civic Centre on the 8th April between the 'Wied il-Ghasel Residential Committee', HPM officials, and several residents, the council publicly declared itself against the development. This is the second consecutive council to oppose the project. The former council had objected strongly to the development. More details may be grafted from the newspaper article by David Darmanin on the latest issue of the 'Malta Today on Sunday'. The Wied il-Ghasel issue was also mentioned again by MEP Steve Borg on One Radio.
Sunday 26th April 2009
From today's issue of the Sunday Times:
Wied il-Għasel development permit 'unethical'
Site enjoys international protection
Caroline Muscat
The last standing ġirna in the heart of a Maltese town is on the site.
Objectors to a development in an internationally protected area of Mosta are alleging a conflict of interest and lack of ethics in the adjudication process.
They are saying the process was tainted since architects Joseph Bondin and Paul Buhagiar - who are involved with the project - sat on Malta Environment and Planning Authority boards for a number of years.
A Mepa spokesman confirmed the Development Control Commission B (DCC B) board took the decision on the Mosta application at Wied il-Għasel at reconsideration stage. Mr Buhagiar, one of two architects appointed by the developer Joe Micallef, sat on DCC B for several years.
The other architect, Mr Bondin, who was involved with the first outline application - for a senior citizens' home - sits on Mepa's Heritage Advisory Committee (HAC).
In 2002, Mr Bondin simultaneously sat on one of the DCC boards and the HAC while practising his profession. The HAC's role is to act as a watchdog over the DCC.
Mr Bondin is facing legal action over two separate cases of lack of ethics in architectural projects. Magistrate Carol Peralta filed one of the cases, claiming the authorities violated his fundamental human rights when they expropriated land he owned in St Julian's to accommodate developers.
The other involves a case in Żebbug, Gozo, where residents are accusing Mepa of irregularities when it permitted the development of a farmhouse outside the development zone. Mr Bondin was the architect named on the applications for both projects.
At the court hearing of the Gozo case last June, statistics drawn up by environmental organisation Flimkien Ghal Ambjent Ahjar (FAA) showed that in three years, 29 of the applications Mr Bondin submitted for the Mosta area were recommended for refusal by Mepa's technical experts. Of these, 22 were overruled by DCC boards and planning permits issued.
The application for the Mosta development in Wied il-Għasel was made on September 6, 2005. Two years later, the DCC refused permission. Yet, the DCC B board overturned the original decision last January.
One of the main arguments brought against the development in Mosta is that the applicant did not mention the presence of the last standing ġirna (corbelled hut) in the heart of a Maltese town.
The site is listed as a nature reserve within the World Database on Protected Areas, managed by the United Nations Environment Programme as well as the International Union for the Conservation of Nature. Ħarsien Patrimonju Malti, which is also objecting to the development, classified it as a Category III - Natural Monument.
Residents said they were shocked at Mepa's permit approval and claim their rights were violated because the development site notice was not affixed to the premises for the length of time required by law. Twenty-four residents submitted affidavits to Mepa in this regard.
According to Mepa, one of the conditions within the approved permit specified that it is subject to written clearance from the Environment Protection Directorate regarding the demolition, or carrying out of significant alteration, of a rubble wall/ non-habitable rural structure. But before the EPD can decide, the appeal scheduled for May 15 must first be concluded.
In the meantime, residents said the developer has already demolished protected old rubble walls on site even though he was not in possession of the necessary permit.
HPM would like to point out that our name is Harsien Patrmonju Mosti not Malti. Furthermore, several organisations, groups, scholars and other 3rd parties, (constituted and otherwise) are objecting to this treacherous development. HPM was the first NGO to make this issue public and is also a recognised case objector.
The site is classified as a Category III Natural Monument by the

International Union for Conservation of Nature
(also known as the World Conservation Union) within its 'Protected Areas & World Heritage Programme' and not by HPM.
29th April 2009
The Case was featured again on the 26th of April in Gharlon Gouder's '606' TV Documentary with Steve Borg.
Another declaration of support by issued today by L-Ghaqda Tar-Residenti Ta' Santa Marija Estate, Mellieha. The Press Release is being reproduced hereunder:
Sinjuri,

L-Ghaqda tar-Residenti ta' Santa Marija Estate, Mellieha, tixtieq tesprimi is-solidarjeta u l-appogg shieh taghha lill- Harsien Patrimonju Mosti u tifrah lill-istess Ghaqda ghall-inizjattivi taghha biex Wied il-Ghasel ma jibqax isostni hsara u qerda kif jidher li huwa ppjanat li jsir. L-Ghaqda tar-Residenti ta' Santa Marija Estate, Mellie?a , tikkonferma li kull ghaqda u NGO li ghandha ghal qalbha il-patrimonju Malti, is-sahha u l-integrita' tal-ambjent taghna ghandhom mhux biss jesprimu l-appogg taghhom ghal din l-inizjattiva izda ghandhom ukoll joffru l-ghajnuna taghhom b'mod konkret sabiex b'sinergija shieha mal-Harsien Patrimonju Mosti, jaghtu sehemhom biex titregga' lura din il-mewga ta' qerda instigata minn spekulaturi rghiba u sostnuta bil-komplicita' tal-MEPA.
Ir-residenti ta' Wied Ghajn Zejtuna fil-Mellieha ilhom snin jissaportu l-attakki tal-ispekulaturi fuq l-integrita tal-Wied u xebghu jaraw lill-ufficjali tal-MEPA jiddeciedu kontra l-indikazzjonijiet tal-Pjan ta' Struttura minkejja l-pariri tan-nies teknici taghhom stess.
Bhala chairperson tal-Ghaqda tar-Residenti ta' Santa Marija Estate, nixtieq inwassal dan il-messagg ta' appogg u solidarjeta lill-membri u attivisti taghkom. Fil-waqt li, f'isem shabi kollha, nawguralkom success fil-hidma habrieka taghkom, nerga nifirhilkom ghall-inizjattiva li hadtu u nsellmilkom mill-qalb

Sammy Vella ~ Chairperson

I am writing in my capacity as Secretary of the Ghaqda tar-Residenti ta' Santa Marija Estate - Mellieha, as directed by my committee during the meeting held on the 16 April 2009, to express the full support of our group for your case against the destruction of Wied il-Ghasel by unscrupulous speculation. The committee stands four-square behind your efforts with the Planning Authority to reverse the permit that should never have been issued and that smacks of irregular behaviour on the part of the develper as well as on the part of MEPA.
Alex Vella - Secretary
Ghaqda tar-Residenti ta' Santa Marija Estate - Mellieha
HPM would like to thank the committee and members of GRSME for its support and assistance, along with all those who have publicly expressed their concern. HPM would also like to urge more NGOs and journalists to investigate, understand, and propagate information about the severity of the destruction of this important site. HPM is here by the people and for the people. HPM is a fully independent entity composed solely from volunteers and does not benefit from any sort of state aid or funding. Considering the unfortunate state of affairs and current situation, HPM believes that it would not be in an ethical position to do so either.

HPM is concerned that apart from MEPA's visible hijack by the boards, several other entities originally set up to raise awareness and perform a watchdog role seem to have become reluctant to voice their concerns over several important issues including this case.
8th May 2009

The following letter is being reproduced here, due to the light it sheds
On vested interests and ethics...
It never fails to amaze me how MEPA falls over itself - James Tyrrell
It never fails to amaze me how MEPA falls over itself to cover its tracks. Several weeks ago I wrote to the Maltese press regarding the proposed permit to build 24 apartments and 26 garages in Wied il-Ghasel, Mosta. Given the fact that not only is this valley Outside Development Zone (ODZ), but a nature reserve protected by UN environment protection gradings I decided to look into the matter. I discovered that two of the architects involved in this development have been Mepa board members for years and that one of them is sitting on the Mepa Natural Heritage Committee!
Now two weeks after my disclosure, Peter Gingell Marketing Executive, Mepa, has finally come up with a reply when he stated at the weekend "there are no architects presently sitting on the Natural Heritage Committee". Well, forgive me Peter for stating otherwise since the last time I looked at the MEPA website, this architect still featured on that board listing. Obviously the MEPA website cannot be relied on for updated, accurate information.
Going back to check on when the architect in question resigned from the committee, guess what? I found his name omitted from the 2007 listing, although he formed part of the committee in that year, and I furthermore found that the 2006 list all refers to 2005, not 2006! MEPA is either trying to hide something or is so inefficient, that it copied the wrong list into its Annual Report. Given that the country's development is in its hands I'm not sure which is worse!
Anyway, the point that Mr. Gingell has tried to distract us from is that when MEPA's DCC Board ignored the advice of the MEPA Case Officer to refuse the Wied il-Ghasel permit, and granted the all-important, legally-binding Outline Permit in 27 April 2004, architect Joe Bondin, sat on both a DCC Board and the Natural Heritage Advisory Committee. Being a major Out of Development Zone project, logic indicates that it should have been reviewed by this same committee. I have trawled all the way through the MEPA Annual Reports and I have not yet found anyone else who wielded power on two MEPA boards consecutively, so why was architect Joe Bondin given this privilege?
Furthermore, unlike the first permit the second one claimed that the site was inside the building zone. And guess what (again!) this meant that the application was submitted to the same DCC B board, which at the time included Mr Paul Buhagiar, the project's second architect! If there's no ethics committee at MEPA, what about the Chamber of Architects? Is it a case of the big sleep?
Mr Joe Bondin has now applied to sanction abuse and build extra floors onto the boathouses at Mgarr, Gozo, and to build a supermarket stretching right across the Xewkija-Xaghra Valley. Who's to bet that we're in for more Dwejra and Safi scandals?
MEPA is one Aegean stable that even Hercules would be reluctant to clean out. Mr. Gingell, I may only be an interfering foreigner, but I can quote another foreigner to you: "You can fool some of the people, some of the time, but you can't fool all of the people, all of the time."
James A. Tyrrell,
5 Lower Cairncastle Road,
Larne,
County Antrim,
N. Ireland BT40 1PG
www.gozonews.com/item/it-never-fails-to-amaze-me-how-mepa-falls-over-itself-james-tyrrell/
---------------------------------------------------------------------------
15th May 2009
The first sitting of Nature Trust's appeal was heard today. Dr. Philip Manduca and architect Carmel Cacopardo led proceedings obo Nature Trust Malta. A request was made to the Appeals Board to issue a directive aimed at stalling any works on site until proceedings are exhausted. The board replied that is was not enabled with such authority and could thus not accede to the request.

It does not take much to see how ridiculous this is, for had the appeals board to decide in favour of saving Wied il-Ghasel, at some point in the future, there would be nothing left to save by then. And once this precious swathe of land is destroyed, the damage would be irreversible!

Considering that the next sitting is due for the 24th July at 4.00pm, this eventuality is a disturbing reality. For several years, FAA have been pressing for the powers of the board to be extended as to ensure proper and fair justice. HPM and NTM, along with several other similar entities and organisations have also lamented at the procrastination by the authorities concerned in finally ratifying these reforms, along with those involving MEPA and the entire system.

HPM would like to refer to George Pullicino's press release from early 2008, in his capacity as Minister and formerly overseeing MEPA, stating that such legal reforms and amendments were in an advanced stage and already within the second reading phase in parliament.

And what about his successor's election time campaign assuring us all that conservation and reforms would be amongst this government's top priorities?
Has our prime minister forgotten smiling at cameras and shaking hands with hon. G. Pullicino with a Girna in the background, while declaring his personal and political, social and moral commitment in safeguarding the last few remaining Girnas left.

For how much longer and to what extent are we, the people of this nation, going to sit pretty and allow those who we have entrusted with our assets and future to constantly lie to us and betray us?

Not showing the truth or exposing partial truths is no less than deceit and equitable to lies. Why have the media factions belonging to the party in government not given this issue proper coverage. Does the segment of people that depends mainly on such means to keep updated not deserve to know that a world protected site is just about to be obliterated and has already been damaged illegally?

Should not this segment of the media be illustrating what steps are being taken to rectify this sacrilege and for MEPA's own policies to be adhered to without exception or prejudice?

And if nothing significant is being said about it, would it mean that such a case is perhaps an embarrassment to the said party?

Several NGO representatives, residents and a number of journalists attended the appeal. MEP Candidate Steve Borg, formerly an active administrative member of both Nature Trust Malta & Fondazzjoni Wirt Artna.
In the interim of all this, works on site have been stopped due to the destruction of the retaining rubble wall described here earlier. They shall remain so for the better part of the next two years.

And in the fields, Nature has spoken again in its unique way. Several red flowers have formed a circle around the two piles of stones ripped out of the wall. A good look at the images clearly shows that the fields are otherwise devoid of red petaled clover. From a distance they look like drops of blood, from closer a wreath of sympathy...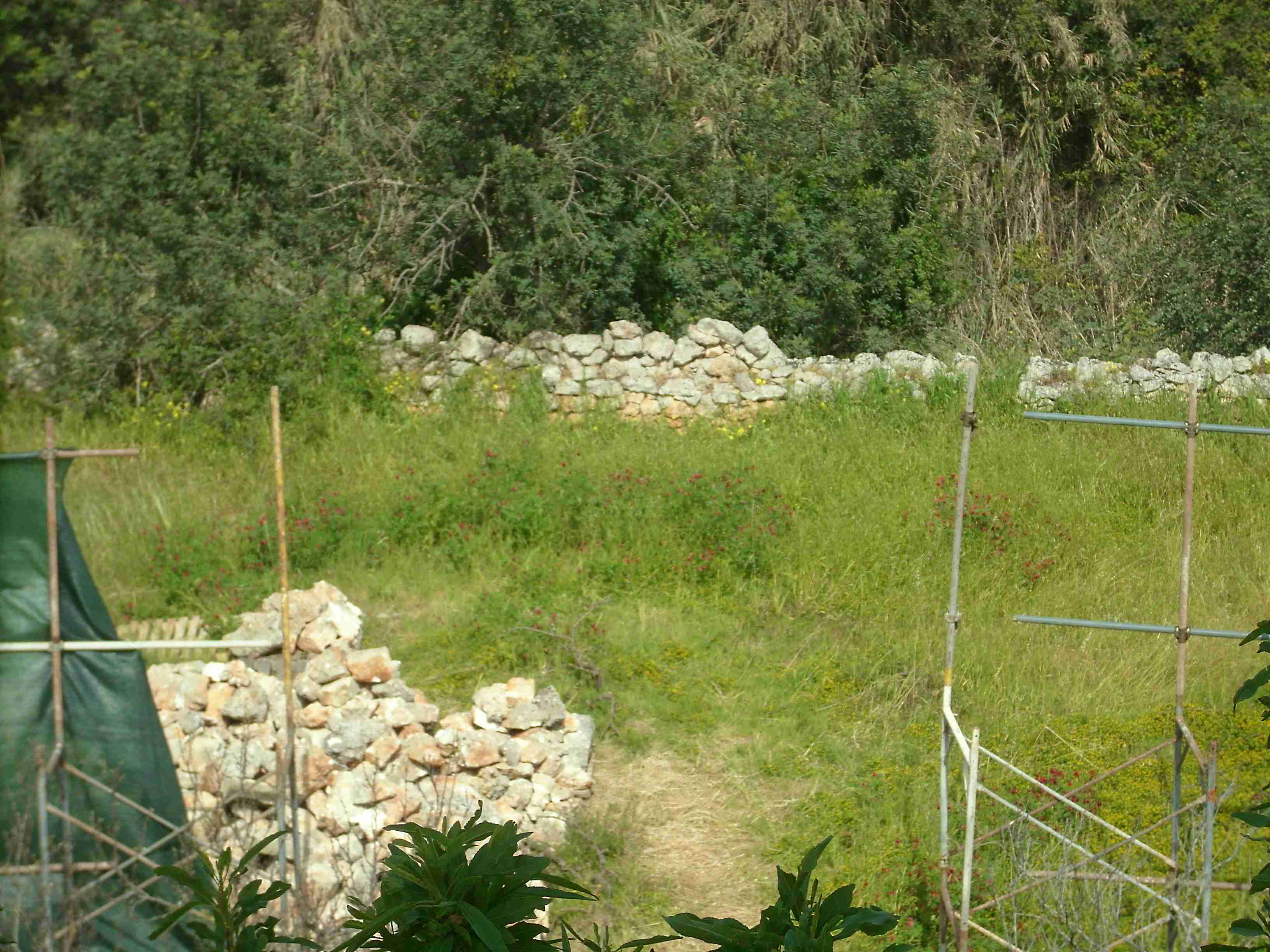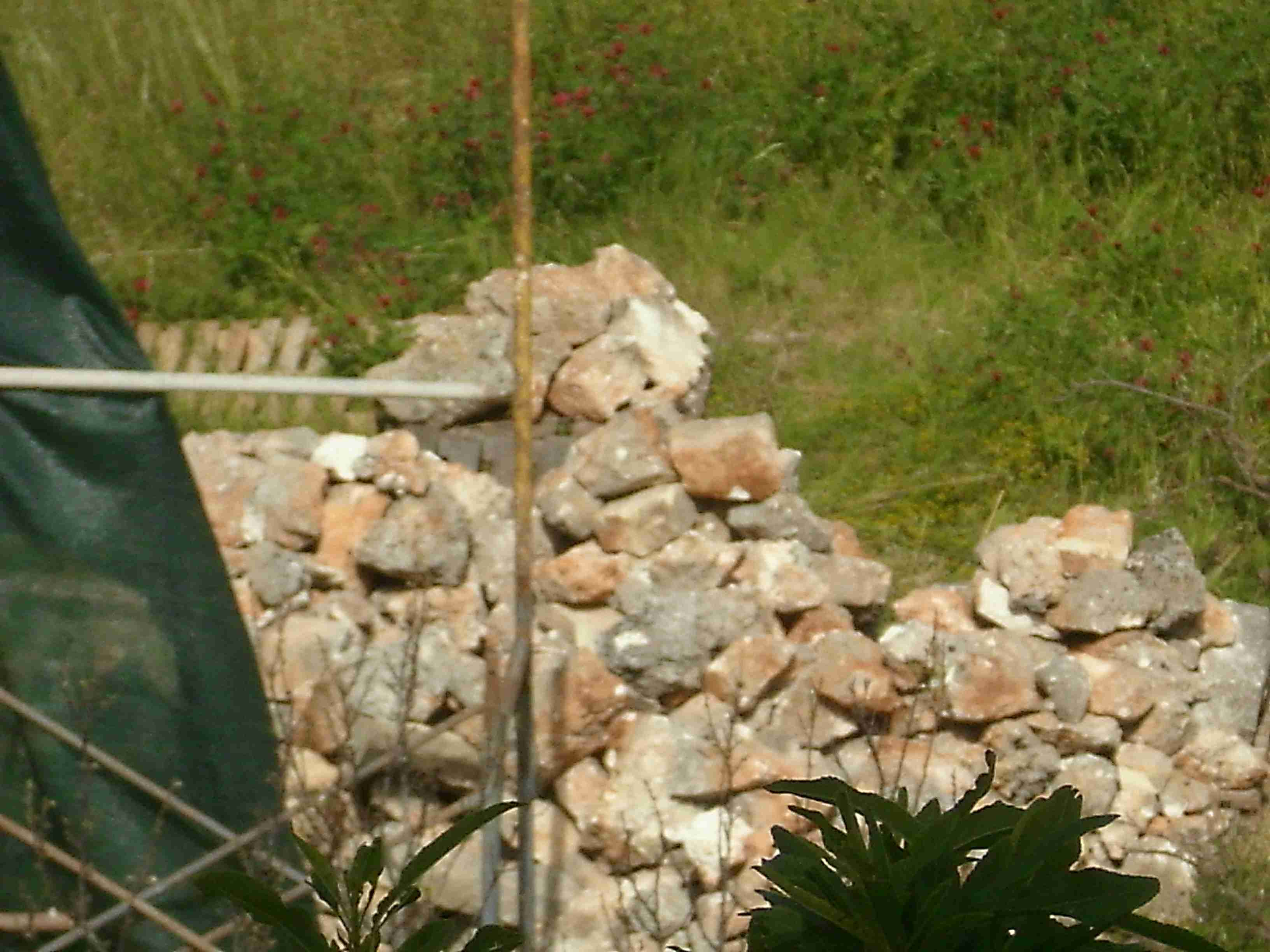 The worse is yet to come however, as you can see by reading on in our second part of this tragic and ongoing saga. As it stands, unless the competent authorities decide to put a decisive stop to this development, this testimonial of shame shall be all that remains of this world recognised site.